Versatility (500 pts)
Last updated: September 27, 2005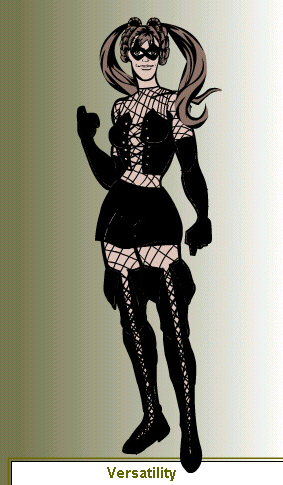 Name:
Nationality: Canadian
Appearance:

Abilities: ( pts)
ST: 10 (0 pts)
DX: 20 (175 pts)
IQ: 10 (0 pts)
HT: 16 (80 pts)

Damage: swing = 1d, thrust = 1d-2, lightning = 8d (up to 12d)
Speed: 12
Move: 224 running

Advantages: (5 pts)
Appearance: Attractive = +1 reaction (5 points)

Disadvantages: (-40 pts)
Albinism (-10 points)
Hard of Hearing (-10 points)
Impulsiveness (-10 points)
Minor Thalassophobia: fear of large bodies of water (-10 points)

Super Advantages: (258 pts)
Absorption: generic energy only (48 pts)

level cost = 10 x 0.8 = 8 points/level
level = 6 (battery = 36 character points: only to Lightning = -20%)
DR = 12 (only vs generic energy, once battery is full)
Doesn't Eat or Drink (10 points)
Increased Speed: basic speed +3 (75 points)
Radio Hearing (20 points)

Affects Others: power = HT = 16 (+40%)
Area Effect (+50%)
In control of what other people hear (+10%)

Range = 0 (-20%) / Increased Area = +1 hex (+20%)
Recovery (10 points)
See Invisible (15 points)
Super Running: 4 levels (80 points)

Super Disadvantages: (-60 pts)
Vulnerability = +2d dam vs water (-20 points)
Weakness = 1d/minute of exposure to water (-40 points)

Super-Powers: (80 pts)
Lightning (ranged/physical) LC = 6 x 1.5 = 9
Power = 8 (72 pts)
Skill = 20 [DX] (8 pts)
Instantaneous (+20%)
Affects Insubstantial (+20%)
Rapid Fire (+40%)
Reduced Range: x2 (-20%)
No Knockback (-10%)

Equipment:
Second Chance Standard Kevlar Vest (PD=2, DR=14, wt = 2.5 lb, protects areas 9-10 & 17-18) - worn under costume.
Envirosuit (wt = 1 lb) - provides Temperature Tolerance: -25 F to 150 F - worn under costume.
Inertial Compass (wt = 1 lb).

Skills: (22 pts)
Area Knowledge: Ottawa - 10 (1 point) m/e
Area Knowledge: Montreal - 10 (1 point) m/e
Area Knowledge: Toronto - 10 (1 point) m/e
Brawling - 21 (2 points) p/e
Carousing - 16 (2 points) p/a [HT]
Fast-Talk - 10 (2 points) m/a
Gambling - 10 (2 points) m/a
Lip Reading - 10 (2 points) m/a
Merchant: Black Market - 15 (2 points) m/a+5
Running - 16 (4 points) p/h [HT]
Streetwise - 11 (2 points) m/a
Throwing - 18 (1 point) p/h

Languages: (0 pts)
English - 10 (native)

Quirks: (-5 pts)

Totally inept with all musical instruments (-4 to all default skill checks), but thinks he's a Rock 'n' Roll superstar.

Becomes restless and bored on rainy days since he is trapped indoors.

Thinks his hearing is just fine, doesn't realize he also reads lips to understand what other people say.

Hates any type of country music.

Doesn't like to be teased about being an albino.

Story:
White Lightning grew up in the suburbs of Ottawa, Ontario, Canada.
One day, he was playing his electric guitar, when lightning struck the power lines. The electrical surge coursed through the wiring of the house, into the guitar and finally into him. The backlash, instead of killing him, instead activated the seeder genes and transformed him into White Lightning.

Campaign Role:
White Lightning is mainly active at night. When not committing petty crimes, White Lightning can be found partying in a variety of night clubs.

Personality:
White Lightning isn't a hard core villain. He does what he does to have fun and to fit into his image of what a "bad boy" Rock 'n' Roll superstar is. That being said, he doesn't like people interfering with his fun or telling him what to do, especially authority figures.

Abilities:
When in direct sunlight, his albinism gives him a -2 to all vision and ranged attack rolls and he suffers 1 point of damage every 30 minutes.
Due to his hard of hearing, any hearing and language skill rolls are at -4.
His increased metabolism allows him to recover from unconsiousness a lot quicker (hours = minutes : minutes = seconds).
His sensitivity to electro-magnetic signatures allows him to detect invisible opponents.
His basic speed = 12 hexes/turn

This allows White Lightning to have 2 actions/turn with a step of 3 hexes each.
His maximum running speed when moving in a straight line = 14 x 2 x 2 x 2 x 2 = 224 hexes/turn
Lightning (SS = 12, acc = +1, 1/2D = 10 hexes, Max = 20 hexes, dam = 8d6)

He can shoot 2 lightning bolts per turn (rapid fire).
Metal armor is only PD=0 and DR =1 against lightning attacks.
For every 9 character points stored in his absorption battery, his lightning power increases by 1.
The maximum bonus to his lightning power is +4 or power = 12 (ie. 12d6 damage).
Brawling skill: punch

dam = cr/thr-2+2 = 1d-2, reach = C, hit = 21, parry = 14
Brawling skill: kick

dam = cr/thr+2 = 1d, reach = C & 1, hit = 19, parry = 12

Battle Tactics:
White Lightning usually has his radio hearing blaring away at full volume to a local hard rock/alternative music station. As a result, anyone who comes within 4 hexes of White Lightning suffers from the Hard of Hearing disadvantage (all hearing and language skill rolls are at -4). This can cause confusion, as the heroes (and villains) in the area of effect must make language skill checks (at -4 to the roll) or lip reading skill checks in order to successfully understand what someone else is saying. (Note: A player needs to make this roll before the GM let's another player provide advice or strategize with the affected player.)


White Lightning will usually try to stay out of hand to hand combat, but keep within 4 hexes of an opponent. Since he has 2 lightning bolts /turn and 2 actions /turn, he usually releases 1 lightning bolt /action. Since the lightning bolts are instantaneous, his usual tactic is to shoot a lightning bolt at his opponent, move 1 hex, attack hand to hand, then move back 2 hexes away from his opponent. This will force most opponents to waste moving a hex towards him, and can only attack if they have a weapon with a reach of 1 hex or more (kicking would work).

Typical Dialogue:
"You are slow dude ... &ltzap&gt ... Yup, definately slow ... &ltzap&gt ..."