American Amazon (600 pts)
Last updated: October 25, 2003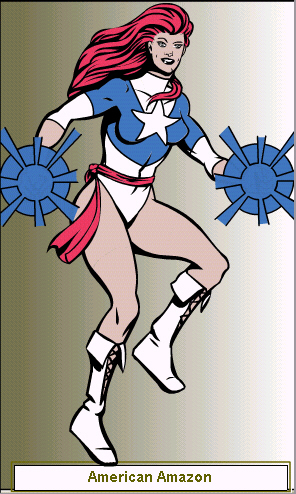 Name: Angela MacDonald
Assignment: Ottawa
Nationality: American
Appearance: human female, white skin, blue eyes, red hair


Abilities: (350)
ST: 200 (260pts)
DX: 14 (45 pts)
IQ: 10 (0 pts)
HT: 14 (45 pts)

Advantages: (155 pts)
Appearance: very beautiful (25 pts)
High pain threshold (10 pts)
Hyper-reflexes (15 pts)
IST Membership (65 pts)
Patron: U.N.

Duty: (15 or less) U.N.

Legal Enforcement Powers

Reaction: +3 citizens member nations, -1 non-member nations, -3 criminals
IST Rank 4 (20 pts)
Status: 1
Wealth: wealthy (20 pts)


Super Advantages: (164 pts)
Absorption [level = 17] (164 pts)
absorbs any type of attack.
battery only goes to strength (-20%)
battery = 102 character points (1 character point = +2 ST)
when her battery is full, she has DR = 34 vs everything.

Disadvantages: (-100)
Enemy: 6 or less [Blue Demon] (-15 pts)
Glory Hound (-15 pts)


Super Disadvantages:


Equipment:
IST Com Unit
Polykev-Envirosuit (PD=2, DR=16, temp. tolerance= -25 to 150, wt=2.5 lbs)
Psi Shield (mindshield, Power 12, Skill 3)


Skills: (36 pts)
Area Knowledge (Ottawa) - (1 pt) m/e
Area Knowledge (Canada) - (1 pt) m/e
Computer Operations/TL8 - (1 pt) m/e
History (International,U.N.) - (2 pts) m/h
Karate - (4 pts) p/h
Strategy - (2 pts) m/h
Tactics - (2 pts) m/h


Languages: (2 pts)
English - 10 (native tongue)


Quirks: (-5 pts)

Worries about her 30th birthday.

Does special guest appearances on Wrestling Shows.

Will only speak English.






Story:


The American Amazon is best known for having fought the Blue Demon in Los Angeles and won. She was the first super to appear on the scene. The Blue Demon struck the first blow. Although she managed to absorb most of the blow, she was still gravely wounded. Fighting unconsciousness, she managed to score a critical hit with her boosted strength. However, it was enough. The Blue Demon was dead ... for now. Fortunately, IST Los Angeles appeared soon after, and Touchstone was able to heal her injuries. Needless to say, she was instantly famous.

IST Los Angeles convinced her to join the IST. After her basic training was complete, she was assigned to IST Ottawa. Although most recruits are usually sent to a far away country to broaden their experience, it was decided to keep her relatively close by so that she can be on call for any "Code Blues".

Campaign Role:


Personality:


Abilities:


When her strength is being boosted by the absorption, her fists glow with a bright blue light.



Battle Tactics:


Typical Dialogue:


"I'll be back, stronger then ever."